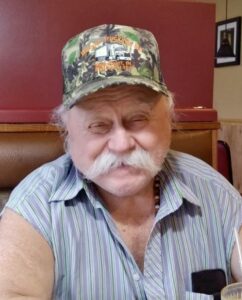 Roger Lewis Sr., 76, of Milan passed away Sunday, November 19, 2023 at his home. Roger was born on Thursday, July 31, 1947 in Milan; son of Flora "Flo" (Rodmaker) Lewis. Roger married the love of his life, Eileen Grace Lewis on March 28, 1978, and she preceded him on February 19, 2019. Roger worked in maintenance for Batesville Casket Company for 35 years. He enjoyed doing leatherwork such as making knife holders and crafting bone handle knives. He also enjoyed spending time fishing and hunting. Roger was known to enjoy spending time around the campfire and going camping with his family.
Roger will be missed by his family Roger (Alice) Lewis Jr., Olivia, and Taylor; Thomas (Debbie) Arthur, Amy, T.J. (Kyle), Ashley, Amanda (Augusta), Kevin (Ashley H.), Austin, Tia, Shane, Emalyn, and Carter; Albert (Debbie) Arthur, Greg (Nikki), Tiffany (Mark), Aiden, Lily, Alexis, and Kyla; David (Lura) Arthur and Tasha; Tim (Cathy) Arthur, Doug (Marissa), Nick (Danielle), Heather (Brian), Eleanor, Sloan, Harlow, and Amity ; Barb (Ron) Bruns, Ron Jr., Brandon (Amber), Matthew (Mary), Clay, Eston, Tyler, Emma, and Abbigail; and Jeff (Jen) Arthur, Elizabeth (Dwayne), Justin, Zack, Brad, Adaya, and Livia.
Roger was preceded in death by his parents; wife Eileen Grace Lewis; daughter Mel Lynch; and brother Frank Lewis.
There will be a private gathering held for the family on Monday, November 27, 2023 at Roger's Home. Memorials may be given in honor of Roger to Shiners Hospital for Children.
Laws-Carr-Moore Funeral Home has been entrusted with arrangements: PO Box 243, Milan, IN 47031; (812) 654-2141. Please visit our website at www.lawscarrmoore.com to share your condolences and memories of Roger.