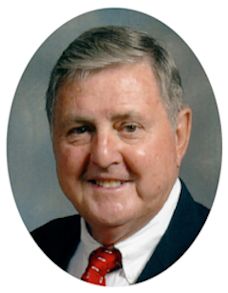 Rodney Clyde Brandes, age 87, cherished husband, father, grandfather, and great-grandfather, died peacefully at his home in Batesville, Indiana on October 10,2021. Rodney was the son of Alma and Ralph Brandes Sr. of Milan, Indiana. Rodney graduated from Milan High School Class of 1953 and attended Indiana University.
Rodney loved people, traveling with friends, golfing, fishing, and hunting. He was particularly fond of his hunting dogs, which he called and encouraged with a hearty "tally ho." He was often the life of the party, appearing regularly as an officially dressed Santa Claus at the Hillcrest Country Club. Rodney was a magician on the golf course, winning the club championship 1971 and numerous team golf tournaments Rodney was inducted into the Ripley County Basketball Hall of Fame in 2010. He was also a dedicated member of the local Masonic Lodge.
Rodney worked for Hill-Rom Industries for over forty years. His first job was in the plating department of Batesville Casket, and one of his first conversations in the Hillenbrand "office" was with the company's founder William Hillenbrand. He then moved from an office assistant into national sales and closing his career as a regional salesman until his retirement. In 2000, Rodney organized and curated the Hill-Rom Museum to document and preserve the fascinating history of the hospital-bed industry.
Rodney married Roberta "Bobbie" Brandes in August 1955. They were married for 66 years until her death in May 2021. They were a great team who worked hard and loved having family, friends and colleagues into their home for decades. Together they generously supported a wide range of Batesville's educational , sports and arts activities
In addition to his beloved wife, Bobbie, Rodney was preceded in death by his brothers Ralph Brandes, Jr., Richard (Dick) Brandes, sister Juanita Taffe. He is survived by his sister, Geraldine Doane and brother Ronald Brandes, and sister-in-law Mary Lee Brandes, of Milan Indiana; his sons Rand Brandes (Beth) of Hickory, NC and Tim Brandes (Stephanie) of Batesville, Indiana and Stephanie's children Sarah, Matt (Taylor and Lacey)and Nick Poppe; grandson Blake Brandes, his wife Valerie Brender and great-granddaughter Ashby of Berkeley, California, and several nieces and nephews.
His family wishes to thank Rodney's faithful friends and exceptional caregivers: Kathy Amburgey, Gabrielle Dodd, Pam Hunter, Lillie Baldrick, Sheri Fuller, Barb Bridgewater, Irma Schoettelkotte, Angela Roberts. The family could not have asked for a kinder and more compassionate professional team than this.
A celebration of Rodney's life will be held at Weigel's Funeral Home at 11 a.m. on Tuesday, October 12th, followed by burial in the Batesville United Methodist Cemetery. Visitation with the family will be from 9-11 a.m. prior to the funeral with a prayer service at 9 a.m. conducted by the Batesville Masonic Lodge #668.
In lieu of flowers, gifts may be made to the Margaret Mary Health Foundation Hospice or the Bobbie Brandes Legacy Fund, PO Box 121 Batesville, Indiana 47006 .