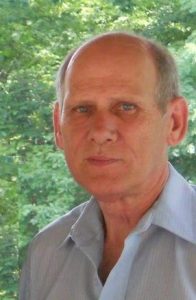 Robert D. "Bob" Shepherd, 68, of Aurora, Indiana, passed away Tuesday, August 17, 2021.
He was born June 14, 1953, in Cincinnati, OH, son of the late Wilbur Shepherd and Gloria (Connelly) Shepherd.
Robert served his country as a member of the United States Army, the National Guard as well as the AMVETS. Robert was very patriotic and loved his country.
He worked as a Letter carrier and sorter for the US Post Office, with over 33 years of service. Robert was a Branch 43 Union Member and served as Union Delegate for most of his years at the Post Office.
He enjoyed family vacations and fishing, but he mostly loved spending time with his grandchildren.
Robert is survived by his loving spouse of 40 years, Vada (Sims) Shepherd, children, Alan Otis (Kelly) Shepherd of Milan, IN, Robbie Shepherd of Cincinnati, OH; Laura Frances Shepherd of Elsmere, KY; brother, Steve (Ollie) Shepherd of Dillsboro, IN; grandchildren, Damien Shepherd, Dominic Shepherd, Dylan Shepherd and Brooklyn Shepherd; step-grandchildren, Skylar Purtell, Gavin Purtell, Gage Purtell.
He was preceded in death by his parents, Wilbur and Gloria, and a brother, Tom Shepherd.
Friends will be received Monday, August 23, 2021, 12:00 pm – 2:00 pm at the Rullman Hunger Funeral Home, 219 Mechanic Street, Aurora, Indiana.
Services will be held at 2:00 pm at the funeral home.
Interment will follow in the River View Cemetery, Aurora, Indiana. Military graveside services will be conducted by the Southeastern Indiana Honor Guard.
Contributions may be made to the American Cancer Society or Loving Hearts Hospice. If unable to attend services, please call the funeral home office at (812) 926-1450 and we will notify the family of your donation with a card.
Visit: www.rullmans.com