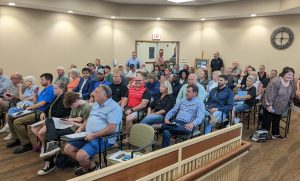 (Versailles, IN) – A number of residents, attorneys, and solar energy advocates packed into the Ripley County Courthouse Annex meeting room Tuesday night for the Area Plan Commission hearing on a proposed solar energy systems amendment to the zoning ordinance.
The current ordinance requires solar energy systems to go before the county Board of Zoning Appeals for a special exception, but many who spoke want more rules and oversight.
Ripley County Surveyor Jeff French says they'll try to model a new ordinance after the state code as well as neighboring counties' rules.
After more than an hour of public comment, French proposed several setback and screening requirements to be added to the now seven-page proposed ordinance.
The issue has been a hot topic in recent months, particularly in the Batesville area.
But French says the code has to work for all of Ripley County, and officials have to look at operational, decommissioning, and environmental issues when it comes to solar farms.
Following a discussion, the Area Plan Commission voted to extend the review period for the proposed ordinance.
They expect to come back with an amended proposal for consideration at the August 3 meeting.