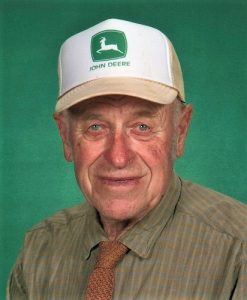 Paul A. Stock, 95 years old of New Alsace, passed away on Tuesday, May 30, 2023. Born in his home on February 4, 1928 to Mary (Distel) and Michael Stock, Paul was a lifelong farmer on the Stock Farm. After his father passed, Paul took over the farming responsibilities at a young age. As was the tradition at the time, the oldest son took over the role of man of the house and he lived up to that by maintaining the farm and taking the initiative to keep things working. Throughout life on the farm, Paul always had a dog with the most recent one being a German Shepherd named Duke Energy. Duke was the name given to the dog originally and Paul tacked on Energy as a nod to his boundless energy. The other must have item on the farm was a John Deer tractor.  He couldn't get by without one and it was his pride and joy.
While serving in the United States Army from 1955-1957, Paul was a mechanic and received the Sharpshooter medal. He was stationed at several locations within the United States as well as Germany. Paul made many lifelong friends in the service.  In 2007, Paul was grateful to attend the 50th reunion of his military service.
Paul will be deeply missed by his nieces and nephews Raymond (Bev) Fuchs, Barbara (Robert Bissett) Fuchs, Rose Mary (Tony) Horner, and Robert Fuchs; great nieces & nephews; and great-great niece & nephews. He is preceded in death by his parents Mary & Michael Stock, and sisters Mary Ann Fuchs & Frances Stock.
Services for Paul will be held on Monday, June 5 at St. Paul Catholic Church of All Saints Parish, in New Alsace, IN. Rosary will begin at 9:00am followed by visitation until 11:00am. Mass of Christian burial will begin at 11:00am followed by burial in the church cemetery. For those unable to attend, Mass will be live streamed at https://www.youtube.com/user/aspweeklyhomily. Memorials can be made to St. Paul's Cemetery Fund or Masses. Memorials will be accepted at the visitation or can be mailed to Andres-Wuestefeld Funeral Home. Family and friends are encouraged to leave condolences at www.andres-wuestefeldfh.com