The Ohio River Valley Conference has released its weekly report for the period ending February 25th.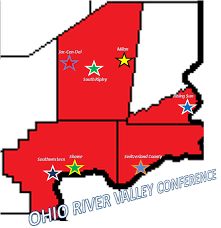 Top performers from area schools during this period were Devin Grieshop (Jac-Cen-Del), Seth Drockelman (Jac-Cen-Del), Cole Henry (South Ripley), Gavin Binion (South Ripley), and Brayden Rohrig (Milan).
Grieshop had 19 points & 12 rebounds in the Eagles 49-40 win versus South Ripley, while Drockelman pitched in 14 pts and 3 rebounds in the win.
Henry contributed 12 points, 8 rebounds, 3 blocks, and 2 steals for the Raiders, while Binion scored 12 points and grabbed 10 rebounds.
In 2 games for the Indians, Rohrig averaged 18 points, 7 rebounds, 3.5 assists, and shot 50% from the field.
Please click the link to view the full ORVC Report for February 20-25.
We thank conference recorder Travis Calvert for the report.