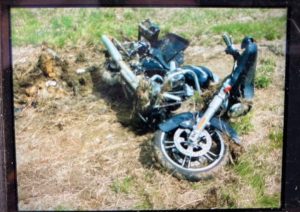 West Harrison, IN — A Joliet, Illinois man was flown from a motorcycle crash that happened Friday on eastbound I-74 near the 162-mile marker in West Harrison. When Dearborn County Sheriff's deputies arrived on the scene, they learned the driver, an unidentified 61-year-old man, lost control of his Harley Davidson motorcycle and went into the media, where he from thrown from the motorcycle. He suffered serious injuries was taken to the hospital by UC Aircare. The sheriff's office says the victim was the only occupant of the motorcycle.
All eastbound lanes of 74 were closed so that Aircare had a landing site.
The Dearborn County Sheriff's Office was assisted at the scene by the St. Leon Fire Department, Sunman EMS, and UC Air Care.