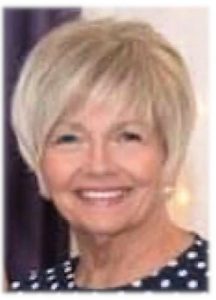 Mary Lou Johnson, 68, of Milan passed away Wednesday, February 24, 2021 at her residence with her loving family by her side.  Mary Lou was born Monday, January 5, 1953 in Dearborn County, Indiana, daughter of Dolores (Rodmaker) and the late William Donald Karst.  Mary Lou married Dickie Johnson on March 10, 1973 and he preceded her in death on January 19, 2000.  She was a member of St. Paul Lutheran Church and the Good Samaritan Hope Chest.  She worked at the Milan Jay C store for more than 28 years as an assistant manager.  Mary Lou had many hobbies including but not limited to gardening, sewing, and crafting.  She loved helping people, especially her family, spending time with grandchildren, being a care giver to many, going on vacations, and loved her pets.
Mary Lou is survived by her partner David Shupert of Milan; son Eric Johnson of Milan; daughter Tonya (Dan) Fugate of Moores Hill; Mother Dolores Karst of Milan; step-son Joe (Chira) Shupert of San Antonio, Texas; step-daughter Kim (Brian) Meeker of Centerville, Ohio; brother Dale (Patty) Karst of Kansas; and grandchildren Jackson Fugate, Sophia Shupert, and Breanna Meeker.  She was preceded in death by her husband Dickie, her father William, and brother Bill Karst.
Family and friends may gather to share and remember Mary Lou from 1 – 3 PM Sunday, February 28, 2021 at Laws-Carr-Moore Funeral Home in Milan.  A service celebrating her life will be held at 10 AM Monday, March 1, with a visitation 1 hour prior to the service at St. Paul Lutheran Church with Rev. Susan Socha officiating.  Burial will follow in Little Memory Cemetery.  Memorials may be given in honor of Mary Lou to St. Paul Lutheran Church or Good Samaritan Hope Chest.  Laws-Carr-Moore Funeral Home, 707 S. Main Street, Box 243, Milan, IN 47031, (812) 654-2141 has been entrusted with arrangements.  Please reach out through our website at www.lawscarrmoore.com to leave an online condolence or a memory of Mary Lou for the family.
Due to the Governor's mandate and for everyone's health and safety, social distancing should be observed and masks must be worn while inside the funeral home.