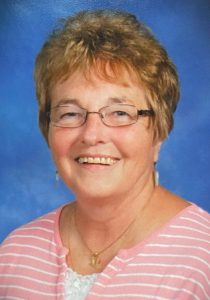 Marcella A. "Marcie" Schutte died Wednesday, August 23, 2023, surrounded by her family following complications from a stroke.
Marcie was born on November 5, 1945, on her parents' farm in New Alsace, IN. She was a farm girl her entire life.  She attended St. Paul's Catholic School in New Alsace and Sunman High School. She graduated from Sunman in 1963.  After graduating, she worked in Cincinnati for a year prior to meeting and marrying Victor J. "Vic" Schutte on September 18, 1965.  Marcie and Vic were married for 34 years, until Vic's passing in 2000.
Marcie and Vic lived for a few years in the Batesville area, prior to moving to Millhousen where they spent their remaining lives. They dairy farmed, butchered, and farmed throughout their lives in Millhousen.  Marcie also worked for the Decatur County Community Hospital's Home Health Care service, retiring from Home Health Care after 26 years of service.
Marcie was always busy helping family and friends, as well as in her community at church, and with the Millhousen fire department.  Marcie also enjoyed spending time with her numerous friends.  Marcie was always quick to give a 'hug and kiss' to all she met and she is fondly remembered for that, one of her many gifts.  Marcie loved her friends and parties and was always ready to have a good time with friends, whether dancing, playing cards, or having one of their many friend gatherings. Everyone who knew Marcie (or "Granny" to many) always noted how she was their favorite friend, aunt, or person, and she will be truly missed by all.
Marcie is survived by her 3 children: Frank Schutte (Julie) of Lititz, PA, Vic Schutte of Millhousen, and Jeanine Scheidler (Jim) of Westport; as well as her 7 grandchildren and 10 great-grandchildren.  Marcie was preceded in death by her parents, Francis E. Schantz and Anna (Braun) Schantz; her husband, Victor J. Schutte; and her sisters: Rosemary Hountz, Philma Kuebel, and Virgina Back.
Funeral services for Marcie will be held Friday, August 25, at the Immaculate Conception Catholic Church in Millhousen.  Visitation will be at the church from 9:00 am to 1:00pm, followed by mass at 1:00pm.
Memorial contributions on Marcie's behalf may be made to the Marion Township Volunteer Fire Department, or the Letts Community Volunteer Fire Department. Online condolences can be made to the family at www.popfuneralhome.com.