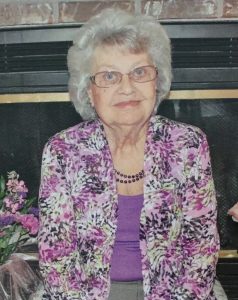 Lois Jane Doemeland, born March 5, 1933, passed away in her home Saturday afternoon of natural causes. She was one of ten siblings and is survived by two brothers, Dickie Kincade of Lakeland, FL and Paul Kincade of Aurora; three sons, Jack (Sherry) Willoughby of Moores Hill, Larry Willoughby of Canaan, and Scott (Jennifer) Willoughby of Moores Hill; 11 grandchildren: Lori Gentry, Lisa (Sebastian) Lautru, Leslie Jo Gentry (Casey Nanz), Chad (Shana) Gentry, Josh (Michelle) Gentry, Duane (Krissi) Willoughby, Cherilyn (Willoughby) Jones, Dawn Martin, Reagan Willoughby, Reese Willoughby, Ryan Willoughby; 17 great grandchildren: Dylan Willoughby, Jason Willoughby, Gabrielle Alanis, Brady Gordon, Gavin Alanis, Mason Gordon, Spencer Gordon, Asher Gentry, Lucy Gentry, Clayton Gentry, Chloe Willoughby, Zachary Willoughby, Lauren (Leesman) Sand, Logan Leesman, AJ Leesman, Alysha Martin, and Sam Martin; and six great-great grandchildren: London Alanis, Korra Shinkle, Owen Sand, Oaklie Sand, Adrien Leesman and Hayden Leesman.
Born in Shelbyville, IN to Fern (Metz, Morehead) and Roscoe Kincade, she was also proceeded in death by seven siblings: Billy, Bobby, Jimmy, Phyllis, MaryAnn, Alice and Patty; two of her children: Sandi (Everett) Gentry, and Donald Willoughby; grandson, James Willoughby; and second husband, Willy Doemeland. She and Willy co-owned several auto parts re-building businesses in the Denver, CO. area. Lois had two step-daughters: Liesel and Heidi. She also owned and operated the 2nd Street Coffee Shop in Aurora in the 1960's. Earlier this year she became a nonagenarian and celebrated this event with family and friends. Lois enjoyed and was an expert at quilting, knitting, sewing, and needle point. She certainly kept her family warm with all of the quilts and blankets that she made for them.
Lois was a devout Christian who faithfully attended and was a member of the Church of God PKG. Lois had a celebration of life service on Wednesday August 23rd, at the Aurora City Park and will have a second celebration of life around the 2023 Farmers Fair Weekend.