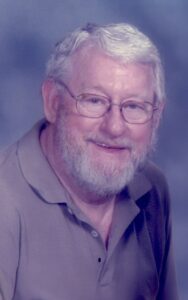 Leo Louis Miller, Jr. "Sonny" passed away peacefully at home on Tuesday, November 14, 2023, at the age of 84. He was born on August 2, 1939, in Greensburg, to Leo and Ruth (Manning) Miller.
He graduated from Greensburg Community High School in 1958. Sonny completed a Management Development Certificate at Wittenberg University in 1980. He retired from Randall Textron in 1997 after almost 40 years in management.
Sonny married Helen Louise Robbins on January 23, 1960, and she survives. They had five children.
Sonny is survived by one son, Chris (Traci) Miller of Hamilton, Ohio; three daughters: Debbie White of Greensburg, Dawn (Andy) Powers of Greensburg, Amy (Brandon) Wilmer of Cedar Crest, New Mexico; one brother, Larry (Betty) Miller of Greensburg; 11 grandchildren; 15 great-grandchildren; and many nieces and nephews.
He was preceded in death by his parents; stepfather, Ralph Whiteford; son, David Lee Miller; four sisters: Dorothy Hatfield, Elizabeth Land, Sarah Smith, Martha Jones; and one brother, Charles Miller.
Family was what Sonny lived for. He loved coaching his sons in little league, fishing trips, working on various cars through the years (especially his 1957 Chevy), and going to various sports and school functions for his grandchildren and great-grandchildren…nothing excited him more than to be able to cheer them on in the stands. He loved entertaining at his house with barbecues and having all the grandchildren and great-grandchildren playing in the yard…those were truly his happy moments, seeing everyone gathered. Every holiday Sonny was able to enjoy wonderful meals and many laughs with his family.
He also loved watching westerns, especially Gunsmoke. A Christmas Story was one of his favorite Christmas movies. Country and bluegrass music were also favorites. He was one of the biggest IU fans you'd ever meet. He loved going to Midnight Madness, now called Hoosier Hysteria. He attended games, watched them on tv, and even listened to them on the radio if it wasn't a televised game. He loved watching the old championship games. He was also a huge fan of the Indianapolis Colts and Jeff Gordon. He loved going to races from an early age, he had fond memories of his brother racing.
He also took great pride in maintaining his yard, though sadly his wife's flowers tended to get mowed over as he mistook them all for weeds. Don't worry, he made it right by making her some dedicated flower beds.
Funeral arrangements are being handled by Porter-Oliger-Pearson Funeral Home in Greensburg. Arrangements are private and family only.
He requested donations be made to an autism organization of the donor's choice in honor of his grandson, Cameron, who he shared an incredible bond with. To leave online condolences please visit www.popfuneralhome.com.