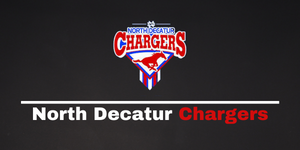 The North Decatur Lady Chargers claimed their 11th consecutive Civil War game by defeating county rival South Decatur 43-32.
South Decatur came into the game with a record of 4-1 and was ranked #8 in the coaches polling at the start of the week. The Chargers came out quickly out of the gate with an early 10-point first-quarter lead.
South found their footing a clawed back into the game as the teams went into the locker rooms with North leading 18-16.
Playing in her final Civil War game, senior Ella Kunz led the Chargers with 7 points in the 4th quarter to help put the game on ice. Madi Allen, Clare Kinker, and Carmen Thackery all connected from the free-throw line down the stretch.
Sydney Rohls added a basket in the final frame and Kelsey Haley connected on a 3-pointer earlier in the contest as well as a free throw for her 4 points.
Kacey Barker provided a spark off the bench in the second half helping execute the Charger offense.
The win evens the North record at 2-2 on the season and they will be in action next Wednesday at Switzerland County.
School Q1 Q2 Q3 Q4 Final
North Decatur 12 6 7 18 43
South Decatur 2 14 6 10 32
Submitted by the school's athletic department.