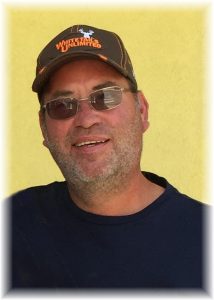 Kevin Wayne Hornberger of Sunman, passed away suddenly on Tuesday, February 25, 2020 in Morgantown, West Virginia.  He was 54 years old.  The son of the late Dale and Patsy Hornberger (nee: Schutte) was born on January 26, 1966 in Batesville, Indiana.
Kevin married his sweetheart, Marcia Rodgers on October 24, 1998 at Adams Lutheran Church in Batesville.  He was a member of St. John UCC, Penntown.  The 1984 East Central High School graduate worked for Eco Engineering as an electrician.  He was very proud of his daughters, supporting their interests and sharing their accomplishments. Kevin enjoyed spending time at the Sunman Fish and Game club especially with the archery tournaments. He had a love for woodworking and always strived to do home improvement by using his learned skills. The enjoyment of last-minute gatherings with family and friends, sharing good conversation and many laughs as well as a few mixed drinks, kept him closely connected to all he loved. He was a devoted husband and father, a loving son and brother, a caring uncle for his nieces and nephews and a great friend always willing to lend a helping hand to anyone in need.
He will be deeply missed by his wife, Marcia; daughters, Ashli and Lea Hornberger; mother, Patsy Hornberger; brothers Steven (Josie) Hornberger and Michael (Kim) Hornberger along with his nieces, nephews, aunts, uncles and cousins.
In addition to his father, he was preceded in death by his brother Brian Hornberger.
Visitation will be Saturday, February 29, 2020 from 12 – 3 pm followed by 3:00pm funeral service all at Meyers Funeral Home in Batesville.  Rev. Tamera Keen officiating.  Burial will follow in Adams Lutheran Church Cemetery.
Memorials may be given to the Sunman Fish & Game Club, Archery Division c/o the funeral home. Online condolences www.meyersfuneralhomes.com.