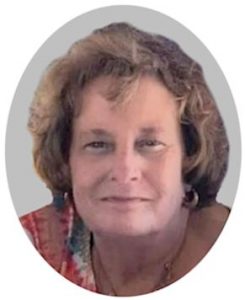 Kathy L. Obermeyer, age 68 of Batesville, died Sunday, January 29, 2023 at Margaret Mary Health.  Born November 16, 1954 in Shelbyville, Indiana, she is the daughter of  Gertrude (Nee: Roell) and Harold Nickels.  She married Robert Obermeyer April 19, 1975 at St. Vincent's Church in Shelbyville and worked in customer service for Citibank.
Kathy enjoyed people.  She liked spending time with friends at the Eagle's Club and the Knights of Columbus.  She was caring and willing to help others whenever she could.  Her daughter shared she has received numerous text messages about how Kathy had helped them with an issue.  She also mentioned that Kathy loved to shop and she and mom were always ready to go.  In her free time, Kathy liked word searches and was a prolific doodler.  Apparently she was also a little fanatical about a clean house.  Two things Kathy loved dearly were her family and Dachshunds.  And while she had a soft spot for her Dachshunds, her grandchildren were her passion, attending all their events and activities.  She was also very close to her mother.  While she herself collected angels, her mother collected chicken figurines.  Kathy inherited her mom's collection, which she treasured dearly.
She is survived by her husband Bob; daughter and son-in-law Theresa and Jarrod Steinmetz of Gilford, Indiana; son and daughter-in-law Jeffrey and Kristen Obermeyer of Batesville, as well as those precious grandchildren Joshua, Jacob, Lauren and Abigail.  In addition to her parents, she is also preceded in death by sister Patricia Harker and grandson Jonathon.
Visitation is Friday, February 3rd from 10 a.m. until 1 p.m. at the Weigel Funeral Home.  Funeral services will follow at 1:30 p.m. at St. Louis Church with Rev. Suresh Ganta officiating. Burial will be in the church cemetery.  The family requests memorials to the Ripley County Humane Society or the Ruth Lyons Children's Fund.  For online condolences go to www.weigelfh.com.