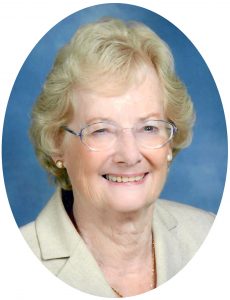 Joan Margaret (Hermesch) Karbowski age 85 of Batesville, Indiana, died April 23rd at St Andrews Health Campus.  She was born in Batesville on July 4, 1937, the daughter of Antoinette (Dirks) and Louis B. Hermesch.  She was raised in Batesville and graduated from Immaculate Conception Academy (Oldenburg Academy) in 1955.  On August 20, 1960, Joan married Donald William Karbowski at St. Louis Church with whom she enjoyed 62 years of marriage. Joan was a homemaker and a member of the St. Louis Catholic Church.
Joan retired from Hill-Rom and Hillenbrand Industries where she worked 29 years as a customer service representative and secretary. She served as Membership Chair of the Batesville Area Historical Society. She was a loving wife, mother, grandmother and great-grandmother, who enjoyed spending time with her family, traveling, playing bridge with her friends and watching the Cincinnati Reds.
Joan is survived by her devoted husband, Don, three beloved children, David P. (Angie) Karbowski, Thomas W. (Jessica) Karbowski and Michael J. (Susan) Karbowski; her loving grandchildren, Heather, Lauren, Megan, Caroline, Jack, Katherine; her great-grandchildren and her nieces and nephews. She was preceded in death by her father, mother and her sisters Ruth Hermesch and Helen Blanken; brother-in-law Jerome Blanken.
Visitation is Monday, May 1st, from 11 a.m. until 1 p.m. at the Weigel Funeral Home. Funeral services follow at 1:30 p.m. with Rev. Suresh Ganta officiating and burial will be in St. Louis Cemetery. Memorials may be made to Oldenburg Academy of the Immaculate Conception, P.O. Box 200, Oldenburg, Indiana, 47036 (oldenburgacademy.org).