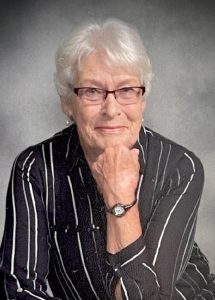 Janet Marie (Witkemper) Meyer passed away on May 30, 2023 at Columbus Regional Hospital at the age of 86 with her family by her side. Born outside of Millhousen, Indiana on November 6, 1936, she was the daughter of Verna (Witkemper) Derrick. She was raised by her grandparents, George and Ida Witkemper in Millhousen. This little girl, born an only child to a single mother, would grow up and create a big, beautiful life. While attending Napoleon High School, Janet fell in love with Rick. This timid young lady was smitten by "Ricky's" red socks peeking from beneath his slacks while in school and the sound of his motorcycle engine as he rumbled into Millhousen from Napoleon. She married Lawrence Richard (Rick) Meyer on May 3, 1958, in Millhousen, with Rev. Carl Riebenthaler officiating. The couple was blessed with three daughters: Donna Spears-Lecher (Tim), Karen (Don) Spears, and Angela (Cris) Reynolds. Being an only child, family made Janet's heart full. From these three daughters and their husbands came seven grandchildren: Jason (Melanie) Spears, Dori Spears Espinda-Baker (Shane), Jessica Spears (Andrew) Conway, Dayne Lecher, Matthew (Abby) Spears, Sydney Reynolds and Cade Reynolds; nine great-grandchildren, Kyra Spears (Wesley) Kosel, Brady Espinda, Brendan Spears, Blake Spears, Stella Spears, Louie Spears, Willow Conway, Millie Conway, and Granger Gauck; three step-grandchildren, Chay Lecher, Chassi Lecher (Jeremy) Cook, and Joshua (Mellisa) Spears; and five step-great-grandchildren, Mitchell Strassel, McKenna Spears, Magdalene Spears, Maliya Spears, and Solomon Cook; and three great-great step grandchildren, Naomi, Grace, and Sawyer Kosel. The family is excited to welcome Janet and Rick's first great-great grandchild and another great grandchild in June.
Janet had always been a dedicated and hard worker on the job and around the home. After graduating from Napoleon High School in 1955, she worked as a secretary, bookkeeper, office manager and law assistant throughout her years of employment. Janet moved to Cincinnati and worked as a secretary to the office manager at Kee-Lox Mfg. Co. for nearly three years until her marriage to Rick in 1953. In January of 1960, she began working in Greensburg for Frank Hamilton, Sr. and Sheldon Smith. This employment lasted for about one and one-half years, at which time her second child was born. Three months later, she accepted a bookkeeping job at Lynch's Firestone (Arthur Lynch and Norman Schlemmer). That job lasted less than two years as she was working 44 hours per week, had two children at home, and was driving to Greensburg from South of Napoleon. However, before she retired from this job, Frank Hamilton, Sr. asked Janet to come back to work for him. She took his offer and continued working for him until his passing in August, 2003. She continued working in the same office for Frank Hamilton, Jr. In 1993, she was nominated by Hamilton Law Office for a Star Award through the Greensburg Area Chamber of Commerce, and was the recipient of a plaque in recognition of her dedicated work. She finally fully retired from Hamilton and Tebbe Law Office on October 30, 2009, having worked in the same office building for approximately 48 years. Through every role, Janet made memorable and lasting friendships.
Janet and Rick took their children on many vacations and trips, many of which were overnight stays at state parks or campgrounds on the way to Rick's Three-Quarter Midget races or planned family vacations. These trips throughout the United States and Canada provided so many special memories. Janet loved the outdoors and sunny, warm days. She played tennis for several years, would walk on stilts occasionally to impress her children and grandchildren, played ball or wrestled with them, and even installed a pool after her children were grown for a place for family to gather! She loved attending her children's and grandchildren's sporting events, especially tennis, basketball, and baseball. One of her goals in life was to make a quilt. So, after retirement, she took up quilting and joined the Greensburg Quilt Guild. She not only met her goal in making a quilt, but she made several large bed quilts, baby quilts, and other small, quilted items. Simply put, Janet enjoyed life and all it had to offer.
This angel on Earth called Greensburg home since 1963, was a member of St. Mary's Catholic Church, an adorer for the St. Mary's adoration chapel, and, together with Rick, delivered Sunday meals from St. Mary's to area elderly and shut-ins for many years. Janet was a past member of the Daughters of Isabella, and a past board member of the Greensburg Adult Center. Janet loved to play games of any kind. Her energy and love for life was infectious. She continued as a member of the adult center where she enjoyed playing Euchre and Canasta with two different groups. Beyond having incredibly close relationships with family, Janet had maintained close relationships with a core group of women, who gathered first in the early 60's through a Home Economics Club. After the Home Ec dissolved, the group began playing Euchre and other card games. The ladies still meet every month to play Dominoes.
Janet is survived by her husband, Rick, their three daughters, and their families. She is preceded in death by her mother, grandparents, and son-in-law, Ronald Spears.
A visitation for family and friends will be on Monday, June 5th from 4-7pm with a rosary service starting at 3:30pm at Porter-Oliger-Pearson Funeral Home. A beautiful funeral mass celebrating Janet's life will be held on Tuesday, June 6th at 11am at St. Mary's Catholic Church in Greensburg, Indiana with Father William Ehalt officiating. Her burial will follow at the St. Maurice Catholic Church cemetery in Napoleon, Indiana where she will rest aside several members of the Meyer family. The family requests that memorials be sent to St. Mary's Catholic Church, Greensburg, Indiana.