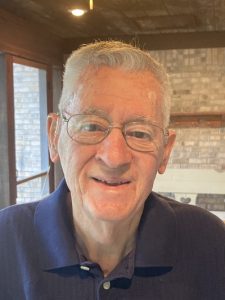 James J. Rosenberry, 88, of Greensburg, passed away on Thursday, May 25, 2023 at Eskenazi Hospital in Indianapolis.
Born October 3, 1934 in Epsom, Indiana, he was a retired teacher from Greensburg Community High School with undergraduate and graduate degrees in education from Indiana State University.
He served in the United States Army stationed in Korea after the Korean war.
He married Marilyn C. Brewer on July 30, 1961, and both remained active members of First Baptist Church in Greensburg.
He is survived by two sons: James B. (Kathy) Rosenberry, Nashville, Jeffrey (Tonya) Rosenberry, Basel, Switzerland; one daughter, Janet (Jay) Vahle, Carmel; two sisters: Linda Chaille, Lebanon, Tonna Lee, Clarksville; three grandchildren: Jacob (Angela) Vahle, Glendale Heights, Illinois, Kaitlin Vahle, Indianapolis, Caleb Vahle, Carmel; two step grandchildren: Jeffrey (Elvie) Kelp, and Megan (James) Catron; one great granddaughter, Jordan Vahle; two step great grandsons: Sawyer and Jericho Kelp.
He was preceded in death by his wife, Marilyn; sisters: Alma Pound, Rena Wheeler, Vonda Rosenberry; brother, Sam Rosenberry; and grandson, Joshua Vahle.
Visitation will be from 10:00 am to 11:00 am on Tuesday, May 30, at First Baptist Church in Greensburg with funeral services at 11:00 am. Interment will follow in South Park Cemetery in Greensburg with a meal afterwards at First Baptist Church.
Memorials may be made to the Bread of Life.