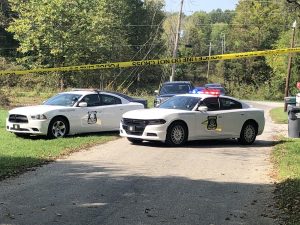 UPDATE #2: The man who was shot to death in the officer-involved shooting at a home at 8052 East County Road 900 North near Sunman Sunday morning has been identified as 37-year-old Joshua Ebinger of Osgood.
Indiana State Police said the incident started around 9 am Sunday as a domestic dispute between Ebinger and a woman who had a restraining order on him.
ISP says a woman inside with Ebinger called 911 saying he had a gun. Two Ripley County Sheriff's deputies, an ISP Trooper, and a Versailles Police officer responded. When they arrived, the woman left the home and was moved by police to a safe location.
Investigators say Ebinger exited the home holding a handgun. Police say they gave numerous commands to Ebinger to drop the weapon but he pointed the gun at them. After ignoring officers' commands, police say a Ripley County Sheriff's Deputy and a State Trooper fired their guns at Ebinger, who was struck by at least one of the rounds.
The officers immediately provide medical care to Ebinger, who was pronounced dead a short time later by the Ripley County Coroner's Office.  No officers were injured.
An autopsy has been scheduled and the investigation is ongoing.
The officers' names are not being released at this time. Both have been placed on administrative leave during the investigation by detectives from the Indiana State Police-Sellersburg Post.
At the conclusion of the investigation, the case will be presented to the Ripley County Prosecutor's Office for review.
UPDATE: The suspect involved in the officer-involved shooting near Sunman was pronounced dead at the scene, according to Indiana State Police.
Original story: 
SUNMAN, IN — Indiana State Police Detectives are investigating an officer-involved shooting that occurred Sunday morning on County Road 900 North near Sunman.
No officers were injured.
Additional details are forthcoming, according to ISP.