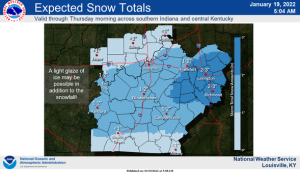 SOUTHEASTERN IN — The Indiana Department of Transportation's Southeast District activated snow and ice removal crews to combat winter weather late this afternoon and evening.
Rain is expected to transition to wintry mix and light snow as temperatures begin to drop. Less than an inch of accumulation is expected in most locations, but cold temperatures mixed with wet roads will likely cause slick conditions.
Drivers began patrolling as early as 3:30 pm in the Bloomington and Columbus areas and later this evening in Aurora, Falls City and Madison. Crews will treat and clear roads as necessary through at least midnight, and into early Thursday morning if conditions dictate.
Aurora Sub District: 11 trucks
Bloomington Sub District: 12 trucks
Columbus Sub District: 9 trucks
Falls City Sub District: 27 trucks
Madison Sub District: 17 trucks
Drivers are encouraged to slow down and give plow trucks plenty of room to work. Follow @INDOTSoutheast on Facebook and Twitter for the latest updates. Monitor road conditions at 511in.org.
(Indiana Department of Transportation press release)