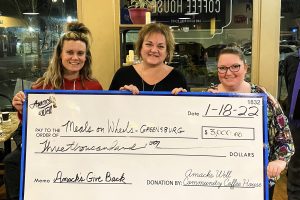 BATESVILLE, IN — Amack's Well Community Coffee House in downtown Batesville is a different kind of coffee shop — a non-profit one, dedicated to giving back to the community. The establishment does so annually via its Give Back Program, in the form of monetary grants to other local non-profits. Tuesday night, check presentations were made totaling $30,000 to the following local organizations:
Batesville VFW Relief Fund, $7,500
Southeastern Indiana Health Clinic, $7,500
So Loved Closet, $3,000
Phi Beta Psi Sorority, $3,000
Ripley County CASA Voices for Children, $3,000
Greensburg Meals on Wheels, $3,000
Batesville Community Garden, $1,500
Batesville Historical Society, $1,500
In addition, Amack's Well gave $5,000, coupled with $2,700 collected from the local community, to Kentucky tornado victim relief. The Amack's Well Give Back Program has awarded over $90,000 in grants since its inception.
The night also marked the retirement of longtime Amack's volunteer, Joan Kuhlman. She has been an integral part of the project since before the storefront opened, and has served as Amack's Business Manager since 2015.
Amack's Well is affiliated with Community Chuch of Batesville.