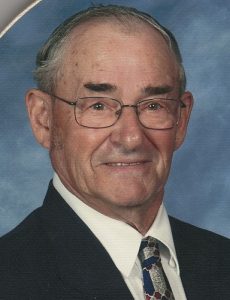 Harry "Butch" Schaefer, 97 year old WWII veteran of Weisburg, IN passed away Saturday, January 15, 2022. The honorary and ornery mayor of Weisburg, Butch planted a vegetable garden big enough to feed all of Dearborn County. Managing a garden of this size every year was no small feat and his strong and steady work ethic was admired by his children. He also grew sunflowers every year and loved watching and feeding birds. Butch was an avid outdoorsman and enjoyed hunting, fishing and training his hunting dogs. He was known to stretch the truth a little, particularly about his unverifiable fishing stories. Butch had grown many varieties of fruit trees and was still climbing ladders to trim those trees into his 90s. He liked driving around in his Gator UTV, his favorite "work toy". He had a working and friendly relationship with many of his neighbors which he cherished. Butch was an avid card player, loving pinochle, euchre, poker and about any card game known. He and his other surviving siblings enjoyed a boisterous game of poker the first Friday of every month at St Andrews. Being the oldest of 12 kids, Butch, was the alpha dog by default, the leader of the pack. He was also the self-proclaimed St. Andrew's weatherman, making sure to share his daily predictions with the other residents. His favorite weather day was snowy and his family found it fitting that he should pass on a day when it had snowed. 
Butch taught and demonstrated to his family and to others how to grow gracefully old. He accepted things as they came, and never complained. Butch was proud to source the finest ham in the land for the family's holiday meals and after tasting it, always proclaimed it was "the best ham we've ever had". He also ran the ham stand at St. Paul's summer festival every summer. He enjoyed watching the Cincinnati Reds and Cincinnati Bearcats Basketball, as well as women's volleyball. He was the American Legion's baseball pitcher in his youth and liked to remind everyone of his no hitter at Long Island Ballpark. Another of Butch's hobbies was making homemade wine with his very own wine press and enjoyed involving the grandkids in this venture. He married the love of his life, Martha Wiedeman, in a double wedding ceremony with his brother Ray, and Martha's twin, Marie. At their 50th wedding anniversary party, the entire Schaefer wedding party and Butch's mother were there to celebrate.
Butch was a lifelong member of All Saints Parish and the last 75 year charter member of North Dearborn American Legion Post 452. 
Butch will be deeply missed by this daughters Nancy (Rick) Meyer of Batesville and Karen (Jody) Blasdel of Bright; siblings Lester Schaefer and Rosemary Conrad; sisters-in-law Ruth & Betty Jo Schaefer: grandchildren Christopher Meyer, Stephen Meyer, Angela (Brett) Horsley, Scott (Laura) Meyer, Lainey (Josh) Schaefer, Jenna (J) Rack, Jared (Jenae) Blasdel; great grandchildren Isabel Meyer, Weston Meyer, Benjamin Horsley, Audrey Horsley, Reese Meyer, Kaylynn Schaefer, Eli Schaefer, John Rack and Lilly Rack. He is preceded in death by his wife of 55 years, Martha Wiedeman Schaefer; parents Bertha and Alfred Sr.; brothers Raymond, Alfred Jr., John, Elmer, Robert, Ralph, Joseph, and Eugene; and sister Bertha Pfliegel. Visitation for Butch will be held on Thursday, January 20 at Andres-Wuestefeld Funeral Home, 25615 State Rt. 1, Guilford, IN 47022. Rosary will begin at 4:45pm and visitation will run from 5:00pm – 7:00pm. Mass of Christian Burial will be on Friday, January 21 at 10:00am at St. Paul's Campus, All Saints Parish, 9788 North Dearborn Rd. Guilford, IN 47022. For those not able to attend, the Mass will be live streamed at https://www.youtube.com/user/aspweeklyhomily. Memorials can be made to North Dearborn American Legion Post 452 or St. Andrews Activity Department. Memorials will be taken at the visitation or can be mailed to the funeral home. Family and friends are encouraged to leave condolences at www.andres-wuestefeldfh.com.