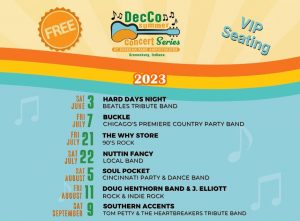 Greensburg, IN — A diverse range of national, regional, and area talent will be featured this summer as part of the free admission seven-show 2023 Summer Concert Series at the Rebekah Park Amphitheater in Greensburg, announced today by Visit Greensburg and the Decatur County Arts Council.
Music of the Beatles and Tom Petty, country rock, R&B, blues, and more will fill the Greensburg night air this summer.
All shows start at 7 p.m.
"The 2023 Rebekah Park concert series will bring an exciting mix of shows to our great city this summer," said Joshua Marsh, Mayor of Greensburg. "We look forward to hosting the series and entertaining concertgoers from near and far all season long."
Hard Days Night – A Tribute to The Beatles will open the series on Saturday, June 3. This impressive tribute band has been entertaining the masses in America and abroad since 1996 – wearing stitch-for-stitch costume replications; playing authentic Vox, Hofner, Gretsch, Rickenbacker, and Ludwig instruments, all while playing the songs we know and love with staggering precision. Hard Day's Night is privileged to recreate and perform the magical music of the Beatles for fans young and old and thrilled to introduce a whole new generation of fans to the excitement of a Beatles concert!
BUCKLE continues the series on Friday, July 7, hailing from Chicagoland as a premier country-rock band! Young, highly energetic, and very talented, this group of musicians with years of experience have been inspired by and compared to the likes of major touring acts such as Kenny Chesney, Luke Bryan, Eric Church, Toby Keith, and many others. BUCKLE Band comes to do one thing……get you off your seat to rock the night away!
The Why Store, a folk and blues-driven rock band that originated in Muncie, Ind. will follow on Friday, July 21. Led by Chris Shaffer, an intense, emotional songwriter with a repertoire of 150+ original songs, The Why Store has been rocking crowds since the late 1980s. Add to that years of musical expertise and comradery from Troy Seele, Dan Hunt, and Jerome Rieskamp — what you get on stage is a unique experience every night.
The mid-July weekend will be complete when on Saturday, July 22 local area favorites, Nuttin' Fancy, will perform live for a headlining show featuring a long list of hits and crowd favorites.
On Saturday, August 5, Soul Pocket, a Cincinnati-based party and dance band continues the series with a high-energy mix of Soul, Motown, R&B, Rock, and Funk. Soul Pocket has been performing for more than 20 years and is known for its sparkling performances, packing the dance floor, and a touch of musical theater.
Friday, August 11 will see a co-headlining show from two of Indy's most beloved rock acts with Doug Henthorn and the LLC and J. Elliott. Henthorn has toured and recorded with the likes of Joe Bonamassa, John Hiatt, Jason Bonham, Beth Hart, and more. Elliott has had a long solo career and was the lead singer of the popular band Stereo Deluxe.
To conclude the series, Southern Accents – The Ultimate Tom Petty Experience will be playing on Saturday, September 9. Southern Accents recreates the music, style, and sound of Tom Petty professionally with immaculate precision and wildly contagious enthusiasm. United in their quest to be the Ultimate Tom Petty & The Heartbreakers Experience, each member of the band looks the part, plays the part, and LIVES the part; the result is pure entertainment and songs so dedicated and true to the originals that you'd swear music history was being made all over again right before your eyes and ears.
Current 2023 concert series sponsors include Stephanie Kress, Jennifer Sturges, Rolfes, Garvey, Walker, & Robbins, Tree City Brewing, Ruoff Mortgage, Fleetwood Chevrolet, Visit Greensburg, City of Greensburg, Levensteins Abbey Carpet, Open Box Outlet, Gilliland-Howe Funeral Home, JCBank, and Insure Choices. For those interested in becoming a sponsor please contact Visit Greensburg at [email protected].
Rebekah Park Amphitheater is an outdoor music venue located at 115 N County Road 80 NE, Greensburg, IN 47240. This concert destination hosts live music events and include a family-friendly setting. Performances are taking place on Friday and Saturday evenings.
Attendees are encouraged to bring their own lawn chairs or blankets. Snacks and drinks will be available for purchase. There will be a beer garden on-site for adults over 21 years of age, however, no alcohol is to be brought into the park and all coolers are checked upon entry.
Parking is conveniently available at Greensburg High School, and Rebekah Park. Special handicapped parking is also available.
(Provided information)