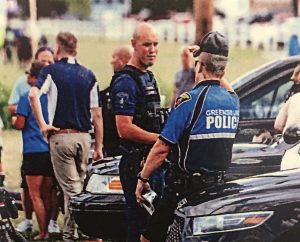 GREENSBURG, IN — The City of Greensburg has canceled Thursday's Public Safety Community Cookout.
This week's event was supposed to be held in the Greensburg Junior High parking lot.
"Because of their shutdown, they are not hosting any events on school property, including ours," said Mayor Joshua Marsh.
"We don't want to draw kids to an event when they're trying to get kids quarantined and spread out for two weeks. So we're being a team player…they're being a team player."
Marsh added he and Greensburg Schools Superintendent Tom Hunter agreed it was in everyone's best interest to cancel this week's event.
The cookouts are still scheduled to take place in October and November.  The next one is set for October 7 at Lifeline Church.
Marsh appeared on Tuesday morning's edition of the Mayor's Daily Briefing on 103.9 WRBI.