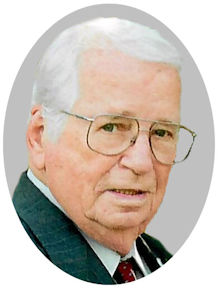 Eugene John Galle of Oldenburg, IN passed away on April 6, 2023, at the age of 93. Eugene was born on February 7, 1930, in St. Mary's, IN to Elmer and Clara Galle. He married Rosemary Fette on May 7, 1960, at St. Paul Church in New Alsace, IN.
He served as a paratrooper in the U.S. Army from 1951-1953 and continued his service as a member of the Army Reserves for six years. Eugene was a tireless worker following his military service. He worked as a barber in Oldenburg for 50 years and as a machinist at Delta Faucet for 25 years to support his family.
Eugene's true devotion was to his family and faith. He was married to his wife, Rosemary, for 61 years and raised eight children in Oldenburg. His steadfast love for his wife and family was reflected in his service to them. Known to be "short on words, but powerful on message," Eugene quietly instilled his faith and values to his children. His faith drove him to dedicate himself in service to the community. He was a member of the Knights of Columbus, a member of the Knights of St. Johns, a lector at church, a little league baseball coach, and a volunteer firefighter. He was also an active member and volunteer at Holy Family Parish in Oldenburg for more than 60 years.
For Eugene, there was no such thing as a bad cup of coffee or a room that was too hot. He enjoyed a good crossword puzzle, country music, playing euchre, and motorcoach vacation trips with friends. He was an avid sports, baseball, and Cincinnati Reds fan, and he never turned down an opportunity to talk about sports. Eugene was a selfless man of strong character who was immensely proud of his children.
He will be deeply missed by his children: Sandi (Dave) Rohde of Littleton, CO, Cindy (Bill) Wanstrath of Batesville, IN, John (Lisa Brannick) Galle of Brownsburg, IN, Michael (Ann) Galle of Bellbrook, OH, Steven (Maureen) Galle of Rochester Hills, MI, Richard (Tina) Galle of Carmel, IN, Ronald (Amanda) Galle of Carmel, IN; daughter-in-law, Jamie Galle of Columbus, IN; sisters Margie Rauch of Brookville, IN and Shirley Robbins of New Holland, PA; 31 grandchildren and 4 great-grandchildren.
Eugene was preceded in death by his wife, Rosemary; his son, David Galle; his parents, Elmer and Clara Galle; and his siblings Angela Prickel, Evelyn Metz, Lowell Galle, Vernon Galle, Mary Jane Jansing.
Visitation is Friday, April 14th from 9 – 11 a.m. at the funeral home.  Funeral services follow at 11:30 a.m. at Holy Family Church with Rev Carl Langenderfer officiating.  Burial will be in the church cemetery with military rites conducted by the Ripley County V.F.W. Post #3183 and the Prell-Bland American Legion Post #271.  The family requests memorials to Franciscan Friars or the Oldenburg Knights of St. John. For online condolences to to www.weigelfh.com.