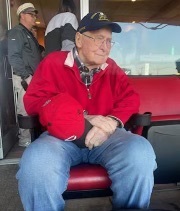 (Cincinnati, OH) – Joseph Rippe was honored last week by the Cincinnati Reds as a Hometown Hero.
Mr. Rippe, who was once part of the management and ownership team at Romweber Furniture Company in Batesville, celebrated his 96th birthday on March 30.
He served as a U.S. Navy Seaman during World War II.
Born and raised in Norwood, Ohio, Mr. Rippe can remember walking to Crosley Field to catch Reds games as a boy.
But he often could not afford tickets, and could only go when received tickets as a reward for being a school safety patrol crossing guard.
Mr. Rippe is a strong supporter of the SPCA and the Boy Scouts.
His caregiver came up with the idea to honor Joseph Rippe for his lifelong devotion to the team and passed his story on to the Reds officials.
He was honored at last Monday night's game between the Reds and Chicago Cubs at Great American Ball Park.