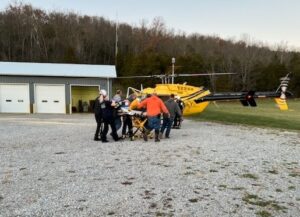 (Friendship, IN) – It was a tough start to the local deer firearm hunting season.
A deer hunter was flown to the hospital after falling in the area of County Roads 800 South and 575 East in Ripley County Saturday afternoon.
The unidentified victim reportedly fell off a tree stand ladder and suffered significant injuries.
The patient was treated at the scene and carried to an ambulance that took him to the landing zone at the Friendship Firehouse.
The person was then flown to a Cincinnati hospital for further treatment.
Responding agencies included Indiana DNR Conservation Officers, the Friendship Volunteer Fire Department, Ripley County EMS, and PHI Air Medical.
Saturday was the first day of the 2023 Indiana deer firearm season, which runs through December 3.