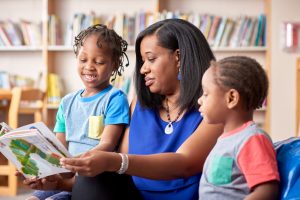 Batesville, IN — Employee volunteers from Cincinnati Children's Hospital will visit Batesville Primary School (BPS) on Thursday, March 2 as part of Read Across America Day.
The volunteers will read books to students that promote language, learning, creativity, and imagination.
In addition, the volunteers will lead each classroom in a crafting activity connected to the books.
Cincinnati Children's first partnered with schools for Read Across America Day in 2015.
"Now that Cincinnati Children's is expanding its care across the region and the children that we serve, we want to increase our impact in the communities we support," said Monica Mitchell, Ph.D., senior director of Community Relations for the medical center. "Ensuring that every child is reading well at an early age is core to our mission of ensuring that every child is thriving physically and emotionally."
Cincinnati Children's will also donate books to each school. Some schools will receive books written by employees of the medical center – including John Hutton, MD, and specialist in community engagement Kristy High, MEd – whose works promote children's health and well-being.
In addition to BES, Cincinnati Children's is partnering with the following preschools and elementary schools in Southwest Ohio and Northern Kentucky:
Cline Elementary and Driscoll Elementary in Centerville, Ohio;
Caywood Elementary in Crestview Hills, Kentucky., and Straub Elementary in Maysville, Kentucky;
Manchester Elementary in Adams County, Ohio;
Liberty Early Childhood School in Butler County, Ohio;
Cincinnati Public Schools: Oyler School in Lower Price Hill; Rockdale Academy in Avondale; South Avondale School; Winton Hills Academy; and Pleasant Hill Academy in College Hill.