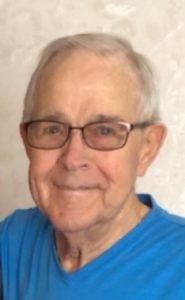 Carroll P. Hoeing, 80, passed away August 30, 2021, at his residence surrounded by his family. He was born July 16, 1941, the youngest of nine children to Joseph and Agnes Hoeing, Greensburg IN.
Carroll married Dorothy "Dottie" Scheidler on April 27, 1963, and she survives. Other survivors include children: Teresa (Steve) Nobbe, Brian (Kim) Hoeing, Keith (Kelly) Hoeing all of Greensburg and Karen (Kurt) Backlund of Fishers, IN; Grandchildren, Emily (Austin) Hauser, Elizabeth (Nick) Martin, Natalie (Kevin) Wallpe, Nathan Hoeing, Tyler Backlund, Abigail and Luke Hoeing; great grandsons, Matthew and James Hauser and Levi, Benjamin, and Daniel Wallpe; brothers, Alfred, Jerome, and Sheldon Hoeing; sisters, Delores Bruns and Marieda (Jim) Koors; several in-laws, nephews and nieces.  He was preceded in death by his parents, brothers, Marvin and Maurice, and sister Dorine Rosfeld; several in-laws, nephews and niece.
Carroll was a member of St. Mary's Catholic Church, where he served as an usher for years, Knights of Columbus, Sons of the American Legion Post 129 and Optimist Club.  He began his banking career at Union Bank and after 19 years went to First Federal and served as a loan officer from 1983 to 1999 and was a board of director from 1999 to 2015.  He shifted gears and went to work at the wastewater treatment plant in 1999 where he worked for at least 10 years full time. He enjoyed spending time with his family, traveling with his wife to shrines and state parks, and taking care of his lawn and vehicles.
Family and friends will gather at 3:30 p.m. on Thursday at the funeral home to pray the rosary.   Visitation will follow until 7:00 p.m. at the Porter-Oliger-Pearson Funeral Home in Greensburg.   The family will also receive friends from 9:00 a.m. until the funeral mass at 10:00 a.m. on Friday, September 3, 2021, at the St. Mary's Catholic Church in Greensburg with Rev. John Meyer officiating.
Interment will be held in the St. Mary's Catholic Cemetery in Greensburg.
Memorials may be made to the St. Mary's Catholic Church.
Online condolences can be made to the family at www.popfuneralhome.com