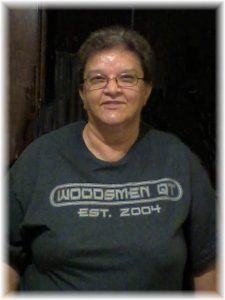 Brenda Faith Yorn, age 65 of Milan, Indiana passed away on Thursday, October 28, 2021 at University of Cincinnati Hospital.  The daughter of Virgil H. and Audrey (Shoopman) Woods was born on July 1, 1956 in Batesville, Indiana.
Brenda is a member of the First Southern Baptist Church in Sunman.
She is survived by her husband, Charles Kelly Yorn; sons, Myron Eric Shaver Jr. (Rachel), Hobie Shaver (Shannon) and Jeremy Decueber; daughters, Adryanna Hoffman and Ann Gardner; 11 grandchildren, 4 great grandchildren; along with her siblings, Tim Woods, Donna Palmer, Norma Hudson, Glenna Goodin and Jesse Henry.
In addition to her parents, she was preceded in death by her two sisters and brother, Molly, Tiny and Virgil E. Woods.
Visitation will be Monday, November 1, 2021 from 11am – 1pm followed by1:00pm funeral services all at Meyers Funeral Home in Batesville.  Pastor Donny Gates officiating.
Memorials may be given to Meyers Funeral Home to help the family with funeral costs by bringing to services or mailing to: Meyers Funeral Home, P.O. Box 202, Batesville, IN 47006.
You are welcome to leave a message for Brenda's family in the online guestbook at www.meyersfuneralhomes.com.