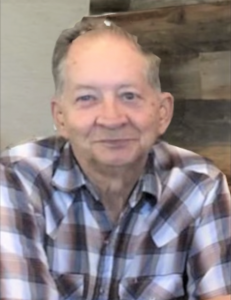 Basil Max Peugh, 80, of Aurora, IN, passed away Saturday, March 11, 2023 at his home. He was born in Washington County, IN, on September 2, 1942 to Harold and Fay (Moody) Peugh. Basil graduated from Aurora High School in 1961. He served in the U.S. Army. Basil was employed at Cincinnati, Inc. for 10 years and he retired as an electrician from Seagram Vivendi after 25 years.
He enjoyed fishing, flea markets, and antique shops. He and his wife traveled throughout the U.S. in a motorhome and also enjoyed riding their Gold Wing motorcycle.
He married Velma Race at Dillsboro United Methodist Church on June 23, 1984 and blended their two sons.
He belonged to the First Baptist Church of Aurora, was a 60-year member of the Aurora Eagles, and IBEW.
Basil is survived by his wife Velma; his son Brian (Charlotte Hudson) Peugh of Dillsboro; grandson Cameron and companion Liz Dietrich of Carlisle, Ohio; stepson Jeffrey Dickerson and companion Cathy Swinford of Versailles, IN; brother-in-law John Race and sister-in-law Judy Race of Dillsboro; nieces, nephew, cousins, and friends.
Basil was preceded in death by his parents; an infant sister Mary Alice; sister Lois Peugh Burcham; brother-in-law Truman "Pete" Morgan and Donal Burcham; nephew Michael Morgan and granddaughter Maggie Dickerson.
Family and friends may gather in remembering Basil from 10 AM-1 PM Wednesday, March 15, 2023, at the Filter-DeVries-Moore Funeral Home in Dillsboro. A service will follow at 1 PM with Pastor Bill Seacrest and Pastor Mona Safely officiating, and military rites provided by Southeastern Indiana Honor Guard. Memorials may be given in honor of Basil to the First Baptist Church of Aurora, Oakdale Cemetery Fund, and Dearborn County Relay for Life.
Filter-DeVries-Moore Funeral Home has been entrusted with arrangements: 12887 Lenover Street, Box 146, Dillsboro, IN 47018, (812) 432-5480. Please visit our website at www.filterdevriesmoore.com to share your condolences and memories of Basil.