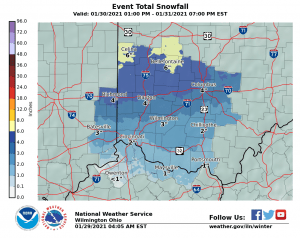 The National Weather Service has issued a Winter Storm Watch in effect from Saturday evening through Monday morning for most of the State.
Heavy wet snow is possible with total snow accumulations of 5 to 8 inches possible north of I-70 and a total of 1-3 inches possible south of I-70. According to meteorologist Mandy Thalhuber, the amount and type of precipitation will all depend on temperature.
Currently, according to Thalhuber, the WRBI listening area is predicted we could get up to 3 inches of snow as well as a rain/snow wintery mix Saturday night into Sunday afternoon. Thalhuber says the day initially starts as a mix of rain and snow, but then transitions to all snow by evening, then possibly back to rain on Sunday.
Travel could be very difficult to impossible. The hazardous conditions could impact travel Saturday night into Sunday.