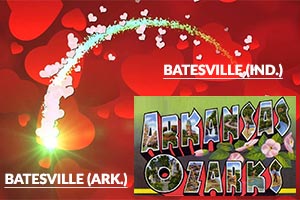 Deb Prickel won our fabulous four-day/three-night trip to Batesville, Arkansas, in the heart of the Ozarks!
Here's What Deb Won

Two half-hour horseback rides (value $30)
Combination tickets to Ozark Folk Center State Park ($40)
Tickets to Loca Ropes ($283)
Three nights lodging at the Horseshoe Bend Crown Resort ($420)
Gift certificate to Rox Outfitters ($50)
Tickets to the Melba Theater ($10)
Pizza, etc. from US Pizza, Batesville ($50)
Dining at Elizabeth's Restaurant, downtown Batesville ($25)
Another all-local contest, local winner, from Country 103.9 WRBI!