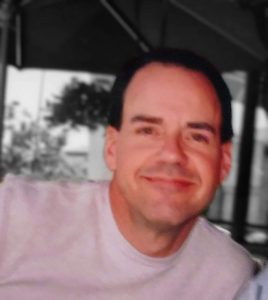 We are heartbroken to announce that our beloved Todd Joseph Castner age 64 of Indianapolis, IN passed away on Wednesday, August 23, 2023. He died peacefully at home with his devoted wife by his side after suffering for almost two decades from primary progressive MS (PPMS). Since the onset of PPMS in 2005, Todd experienced a continuous worsening of disability, leading to total body dysfunction, finally resulting in death.  Despite our best efforts, advanced therapies, and lifestyle changes, remission did not occur. Todd fought this unrelenting disease valiantly with courage and conviction for 18 years. He never gave up, nor did he ever give in to the end.
Todd was born on November 7, 1958, to Jarvis and Betty Castner of Versailles, Indiana in Batesville at Margaret Mary Hospital. Todd was one of five children: Craig (Ginger) daughter Brittaney; Greg (Rosie) daughter and son Amber and Andrew; Tim – daughters Ashley and Courtney; Marybeth (Sandy) son Dezi.  He grew up in the old-fashioned small town of Versailles with the picturesque Versailles State Park as his playground and Pollard's Bowling Alley as his after-school hangout where he forged enduring relationships that were a blessing to him throughout his life.
Todd married Donna Speer on January 25,1980 in Modesto California at the Centenary Protestant Church. They were married for over 43 years! They have one child: Adam, who is married to Kayla Lamb of Modesto, California. Todd and Donna resided in Modesto for the biggest part of their marriage. In 2007, they moved back to Indiana. Todd began to have prominent signs of decline in his health. They have lived there for the past fifteen years.
Todd belonged to the International Brotherhood of Electrical Workers (IBEW) Local 332, San Jose, CA and was a Forman. He was a U.S. Army Reservist for 6 years and was a Supply Specialist. When Todd could no longer work, he became a student of the Bible, studying the history of God's people throughout the ages at Ambassador College, Pasadena, CA. It is named the "Worldwide Church of God."
Todd's final word before he passed away was: "Beautiful". We will miss him until we meet again!
Celebration of Life service will be held at Tyson Methodist Church, Versailles, IN on Saturday, September 2, 2023 at 11:00 AM. We invite all family and friends to join us. In lieu of flowers, memorials can be made to Cliff Hill Cemetery through Stratton Funeral Home.