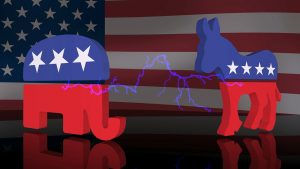 (INDIANAPOLIS) – Republicans will have contested races for at least two of the three statewide offices on the ballot at their state convention next year.
Former state Senate candidate Suzie Jaworowski is the latest candidate for treasurer, joining former state party spokesman Pete Seat and Morgan County party chairman Dan Elliott. She scheduled a campaign kickoff Thursday night in Fishers.
Seat and Jaworowski are both highlighting their White House resumes. Seat was a speechwriter for George W. Bush before returning home to work for the state party. Jaworowski was chief of staff for the Office of Nuclear Energy under Donald Trump, and argues her executive experience in that role gives her an edge on her rivals.
Seat and Jaworowski are also proposing to take the office beyond just overseeing the state's investments. Seat says his communications background would make him an ambassador for Indiana's College Choice savings plan. He says Hoosier parents understand it's a program with a direct and positive impact on them. Jaworowski vows to use the treasurer's office as a counterweight against anti-police sentiment, calling for legislation to restructure student loans for Hoosiers who fill high-demand jobs: police, firefighters, nurses, teachers and mental health professionals.
Seat says the treasurer's office is on the front lines of preserving personal and economic freedom. He says he's seen firsthand the consequences of its absence, in travels to Cuba, Colombia, and the Syrian border.
The treasurer's race offers a rare statewide opening for Republican office seekers, with term limits barring incumbent Kelly Mitchell from seeking a third term. But Republicans have at least a three-way race for secretary of state as well, with former state Senate candidate Paul Hager the second candidate to challenge incumbent Holli Sullivan in her bid for a full term. Governor Holcomb appointed Sullivan after the resignation of longtime Secretary of State Connie Lawson. Former congressional hopeful Diego Morales announced his candidacy earlier this summer.
No Democrats have announced campaigns for either office, nor for state auditor, where incumbent Tera Klutz is so far unopposed.
Both parties will choose their nominees next summer at their state conventions.