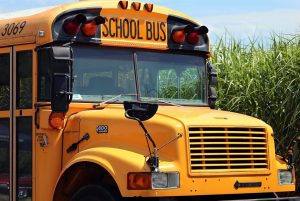 STATEWIDE — Police will be out on the streets near schools and school bus stops, looking for stop-arm violations and people driving dangerously.
More than 200 police agencies across Indiana will be taking part of the state's Stop Arm Violation Enforcement program.
"We're looking for those stop-arm violations," Indiana State Police Sgt. John Perrine said. "When a school bus stops, with its red lights flashing and the stop sign extended, all the cars coming or going past that school bus have to stop. We're looking for those violators that make it dangerous for our children to get on and off those buses."
"The vast majority of Hoosier motorists care about the safety of our children on these buses and will stop when they see those buses, but we do see quite a few violators."
Perrine reminds you it's illegal to pass a stopped school bus.
"Most of the time it constitutes a citation, which, actually, often times converts into a reckless driving offense," he said.
There is only one instance where you don't have to stop for a school bus — when you are driving towards it on a four-lane highway, and there is grass or concrete barrier dividing the highway.
Police will also be cracking down on drivers who are speeding in school zones.
Perrine says this is the time to change your driving routine, pay more attention, limit your distractions inside the vehicle, and slow down.
Police departments did a similar program in the spring. More than 5,600 tickets were handed out across the state.