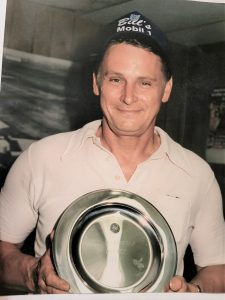 Robert "Buster" Bischoff passed away at the age of 83 at Ridgewood Health Campus in Lawrenceburg on Monday, February 27, 2023. Buster was born on Tuesday, October 3, 1939 in Milan, Indiana, son of Elizabeth (Russell) Taft and stepdad Clayton Taft. Buster married his loving wife Phyllis (Jackson) Bischoff on February 12, 1960 and she survives. Buster was a member of the Dillsboro Baptist Church. He worked at Anchor Glass in Greendale for 47 years in the maintenance department and as an operator. Buster could often be found outdoors, whether he was trap shooting, fishing, gardening, mowing his lawn, tending to the flowers, or just tinkering with anything and everything. His greatest passion in life was spending time with his family and his dog "Happy".
Buster will be greatly missed by his wife of 63 years, Phyllis Bischoff, of Dillsboro; sons Michael (Debra) Bischoff of Guilford and Rodney (Lauri) Bischoff of Dillsboro; brothers Ron (Dawn) Taft of Atlanta, Georgia and Larry (Jane) Wadsworth of Navarre, Florida; grandchildren Dustin Bischoff (Kaylee Gregory) and Morgan Bischoff (Robert Feichtner); step-grandchildren Shawn Haase, Trena Walker, and Josh Kessler; great-grandchild Karter Bischoff; and step-great-grandchildren Braden Walker, Ben Walker, and Keegan Kessler.
Buster was preceded in death by his mother Elizabeth Taft and stepdad Clayton Taft.
Family and friends may gather in remembering Buster from 10:00am-12:00pm on Thursday, March 2, 2023 at the Filter-DeVries-Moore Funeral Home in Dillsboro. A service will immediately follow at 12:00pm with Pastor Todd Wolfe officiating. Burial will take place in Oakdale Cemetery. Memorials may be given in honor of Buster to the Christian Motorcyclists Association, St. Jude Children's Hospital, or the Shriners Hospital for Children.
Filter-DeVries-Moore Funeral Home has been entrusted with arrangements: 12887 Lenover Street, Box 146, Dillsboro, IN 47018, (812) 432-5480. Please visit our website at www.filterdevriesmoore.com to share your condolences and memories of Buster.