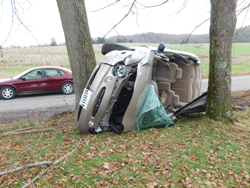 Franklin County, In. — A Richmond woman has to be airlifted from the scene of a Franklin County crash Sundat.
Reports indicate around 12:12 p.m. Sunday, November 25 deputies responded to Highland Center Road at St. Peters Road. A car driven by Theresa Laboyateaux, 44, was northbound on Highland Center Road when she drove off the west side of the roadway and rolled before coming to rest against a tree.
Laboyateaux had to extricated from the vehicle and flown to a Cincinnati area hospital treatment. Her condition is not known.
Deputies were assisted by the Cedar Grove Volunteer Fire Department, Brookville EMS #2 and Rescue/Responder 24.
The accident remains under investigation.