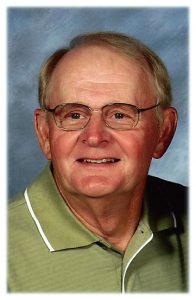 Richard James Luke of Dillsboro-Farmers Retreat was welcomed into the arms of Jesus on Saturday morning, April 22, 2023 with his family by his side. Richard was born on Monday, December 14, 1942 in Milan, Indiana, son of the late Walter and Ruth (Niederbauer) Luke. Richard married his loving wife of 57 years, Bobbie Wickizer, on August 20, 1965. Richard was a lifelong member of the St. John Lutheran Church at Farmers Retreat where he was baptized, confirmed, married, and he will be buried in the church cemetery. He held many offices in the church and was always willing to go fix things at the church properties. Richard proudly served our country in the U.S. Army. He was a rural letter carrier for the local post office in Dillsboro. Richard loved farming and did so until last fall when, after harvest, he knew he would not be physically able to continue doing so. He had a great sense of humor up until he died. Richard most of all loved spending time with his family.
Richard will be greatly missed by his wife of 57 years, Bobbie Luke, of Dillsboro; daughters Laura Groves (William "Jeff"), Linda Hurelbrink (Tim), and Lisa Kreimer all of Farmers Retreat; brother Ralph Luke of Farmers Retreat; grandchildren Aaron Snelling (Jenna), Jacob Snelling (Fiance Chloe Fehling), Zachary Groves, Sean Groves, Nicole Kreimer, Abby Kreimer, Becca Kreimer, Brayden Hurelbrink, and Ella Hurelbrink; great grandchildren Hunter Snelling and Karlee Snelling; sisters-in-law Elsie, Judy, and Annis Luke; brother-in-law Richard Wickizer; sister-in-law Brenda Thayer and many nieces and nephews and their children.
Richard was preceded in death by his parents Walter and Ruth, brothers Arthur and Paul Luke; sister Verna Kersey; brother-in-law Jim Thayer; sister-in-law Pam Wickizer; and niece Karen Sutton.
Family and friends may gather in remembering Richard from 4 PM- 8 PM on Wednesday, April 26, 2023 at St. John's Lutheran Church (Farmers Retreat) Hwy. 62, Dillsboro, IN 47018. Funeral services will be held at 11 AM on Thursday April 27, 2023 also at the church and visitation 1 hour prior to service time with Pastor Jared Tucher officiating. Burial will follow at St. John's Lutheran Cemetery, Farmers Retreat with full military rites provided by Northcutt-Laaker American Legion Post #292 of Dillsboro. Memorials may be given in honor of Richard to St. John's Lutheran Church or The American Heart Association for Cardiac Amyloidosis Research.
Filter-DeVries-Moore Funeral Home has been entrusted with arrangements, Box 146, Dillsboro, IN 47018, (812)432-5480. Please visit our website at www.filterdevriesmoore.com to share your condolences and memories of Richard.