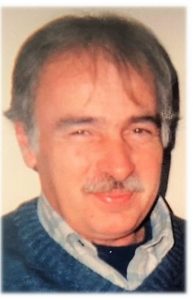 Raymond "Ray" Heis, 68, of Brookville passed away Saturday, January 30, 2021 at his residence with his loving family by his side.  Ray was born to Raymond and Aloha (Grant) Heis Betzing in Cincinnati, Ohio on Tuesday, February 5, 1952.  He married Diane Herring on May 13, 1994.  He attended the Sunman Baptist Church with his wife.  He worked for Kroger as a lift truck operator in their warehouse.  Ray enjoyed many things during his lifetime such as running the Maw & Paw flea market in Sunman, playing guitar in a band, going to auctions, bowling, camping with his family and he enjoyed sitting around the campfire, as well as having a love for animals, but his greatest passion in life was spending time with his grandchildren.
Ray is survived by his wife Diane of Brookville; his children Melodie Stormann (Ernest) of Ohio, Kenny "Ken" Wingate (Lisa) of Indiana, David Matteson of Kentucky, Steve Heis of Ohio, Tim Woodruff (Bev) of Indiana, Tracy Abbott (Chad) of Indiana, Terry Woodruff (Courtney) of Indiana, and Tara Collins-Longstreet (Nathan) of Indiana; sister Aloha "Genny" Cook (Jesse) of Ohio; many grandchildren; several great-grandchildren; and numerous nieces and nephews.  He was preceded in death by his parents, Raymond and Aloha, daughter Tammy Judd, sister Donna Mangold, great-granddaughter Breana McIntosh, and great-great-grandson Bentley McIntosh.
Family and friends may gather to share and remember Ray from 11 AM – 1 PM Wednesday, February 3, 2021 at Sibbett-Moore Funeral Home in Moores Hill.  A service celebrating his life will be held at 1 PM also at the funeral home.  Burial will follow in Mount Sinai Cemetery in Aurora.  Memorials may be given in honor of Ray to the family. (Please make checks payable to Diane Heis.)  Sibbett-Moore Funeral Home has been entrusted with arrangements, 16717 Manchester Street, Box 156, Moores Hill, IN 47032, (812) 744-3280. Please reach out through our website at www.sibbettmoore.com to leave an online condolence message or a memory of Ray for the family.
Due to the Governor's mandate and for everyone's health and safety, social distancing should be observed, and masks must be worn inside the funeral home.