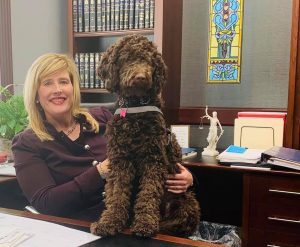 Lawrenceburg, IN — If you see a dog around the courthouse don't be surprised. It is the newest member of the Prosecutor's Office. Prosecutor Lynn Deddens announced the adoption of Therapy Dog in Training, Bailey.
Bailey is an 8-month-old Goldendoodle, who is in the process of being trained as an emotional support animal for victims of crime. According to the Courthouse Dogs Foundation, there are over 257 dogs in 41 states providing a variety of services in the courthouse from the courtroom to interviews of vulnerable victims. The State of Indiana alone has six emotional support dogs in use around the state.
Bailey was purchased from a family who breeds Goldendoodles in Rising Sun. Both Bailey and her training are being paid for by Prosecutor Deddens without the aid of any tax dollars. Since then, Bailey has started her training at Brick + Mortar K9 Academy. This is just the beginning of her long journey to become certified. The Prosecutor's office will provide updates on her training as she progresses.