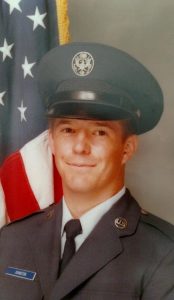 Jeff W. Johnston, 58, passed away Friday May 27, 2022, at  Columbus Regional Hospital surrounded by family. He  was born in Greensburg, IN on June 28, 1963, to Wayne  and Phyllis (Carder) Johnston. 
He graduated from Greensburg High School in 1982 and  joined the United States Air Force. While in the Air Force  he worked as a flight engineer on C-130's. After proudly  serving his country, Jeff found a passion for over-the 
road truck driving with Boyle Trucking. His passions  included traveling, camping, watching Sunday Football,  and spending time with family and friends. 
He is survived by his daughter, Jessica Naylor (Curt) of  Connersville, IN; his son, Nicholas (Melissa) Johnston of Fort Campbell, TN; 4 granddaughters: Olivia Naylor,  Delaney Naylor, Lexie Johnston, and Joanna Johnston;  two sisters: Jane (Chris) Luers of O'Fallon, MO, Jenny  Hayes of Greensburg; one brother: Brad Johnston of  Greensburg, as well as 3 nieces and 2 nephews.  
He is preceded in death by his parents and sister, Rebecca.
Jeff's visitation will be held Thursday June 2nd from 11:00 am – 1:00 pm with the funeral starting at 1:00 pm at Porter-Oliger-Pearson Funeral Home in Greensburg. Burial will be following at South Park Cemetery. 
In lieu of flowers, memorial contributions can be given to the Special Olympics. To leave online condolences, please visit www.popfuneralhome.com.