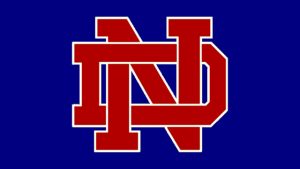 In the annual battle for the Phidippides Cup Thursday night at North Branch the Chargers fell short by a score of 29-26. It was a fantastic and competitive race from start to finish. Leading the pack for the Chargers was Senior Ryan Hancock 3rd place in a time of 20:32. Coming in just behind Hancock was sophomore Kaysar Bowles 4th place in a season-best time of 20:39. Freshman Logan O'Dell 6th place in a new PR of 20:42 and freshman Eli Weisenbach 7th place in a new PR as well in 20:55. Junior Noah Weisenbach 9th place set a new PR in 21:27 and freshman Adam Wade continued to lower his PR with a time 21:57. Senior Mason Dimett ran a great race in a time of 24:46. Freshman Landon Swango had a time of 25:55 and Sam Cathey set a new PR with a time 26:58.
Following the race, the Senior Chargers were recognized for all their hard work and dedication to the program. They include Ryan Hancock, Mason Dimett, Philomenia Niese and Paige Reisman.
Submitted by the school's athletic department.