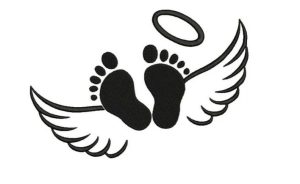 Nevaeh Lou Rigby was born sleeping on Friday, August 18, 2023, at 10:02 am. She was born at Margaret Mary Hospital in Batesville, Indiana. She is the daughter of Darren and Marissa Rigby of Laurel, Indiana.
She has three brothers, Garret Powers of Greensburg. Wyatt Rigby of Laurel and Ty Rigby of Laurel. Other survivors include Paternal Grandma, Judy Johnson of Columbus. Maternal grandparents, Mark and Christina Richardson of Osgood, Maternal great grandfather John Walston of Madison, aunts, uncles, and cousins. She was proceeded in death by paternal great grandfather Sy Rigby, and maternal great grandmother Linda Walston.
Services will be held for close friends and family only at the discretion of her parents. She will be laid to rest at home. Online condolences can be made to the family at www.gilliland-howe.com.