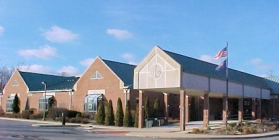 (Greensburg, IN) – The Greensburg/Decatur County Public Library received a $25,000 contribution from Honda for its 2023 summer reading program "Oceans of Possibilities" and other STEAM activities to be offered at the library throughout the summer.
The eight-week program encourages kids to read over the summer so they are prepared for school when it begins again in August.
The library is also providing many fun, educational programs throughout the summer to spark an interest in STEAM, ranging from crafts to science and art workshops.
"This support from Honda will enable the Greensburg Decatur County Public Library to bring special STEAM programs from the Newport Aquarium, the Cincinnati Museum Center, and Do Art Productions to Greensburg. Performers like magician C.J. Ryan and Silly Safari's Live Animal Show promise to make this a fun and exciting summer for kids of all ages! Because of Honda's support and generosity, all these programs are being provided for free to our community," said Jill Pratt, the library's Youth Services manager.
Adults and teens are not left out of the reading fun and are encouraged to continue their journey of life-long learning with their own reading programs and activities. Visit the library's website for a list of all summer programs and to register: www.greensburglibrary.org.
"We believe in creating opportunities for young people to succeed. Through education, today's youth will solve tomorrow's challenges with innovation and a spark of creativity," said Yvette Hunsicker, vice president, of Corporate Social Responsibility for American Honda. "We proudly support Greensburg Decatur County Public Library's summer reading program and STEAM activities and together, we will fill 'Oceans of Possibilities' for the future."
(Greensburg/Decatur County Public Library press release)