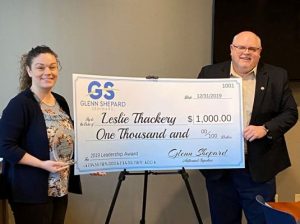 Greensburg, IN—The Greensburg/Decatur County Chamber of Commerce has announced that Leslie Thackery of Gilliland-Howe Funeral Home in Greensburg, has been honored with the Glenn Shepard Servant Leadership Award.
The award was created in 2010 to recognize people who practice servant leadership with character and integrity by walking the walk (instead of talking the talk like so many people do). It is a way to edify and honor the recipient by recognizing their service to others.
Leslie also received $1,000 from Glenn Shepard to help further her service to others in any way she chooses. Thackery has been the Manager of Gilliland-Howe Funeral Home since 2013.
Thackery is a member of the Greensburg Breakfast Optimist Club, VFW Ladies Auxiliary #5584, American Foundation for Suicide Prevention, Community Action Coalition, Greensburg Prevention Group, Greensburg Women in Business, and a Board Member of the Greensburg/Decatur County Chamber of Commerce.
In 2008, after the Working Women in Business organization closed its local chapter, Leslie picked up the reigns of a program that turned into Reality Check, a program for 8th-grade students to give them a sample of real-life experiences such as budgeting, purchasing a home, car, and necessities for life as an adult. That program continues today. Leslie also organizes and leads the efforts for the annual Veterans Day parade event, and she organized the local effort for the National Wreaths Across America, an event in December dedicated to remembering the sacrifices veterans have made in wars since the American Revolution. In 2015, the local effort of Wreaths Across America effort laid seven military wreaths. In 2016, 413 wreaths were laid; 2017 saw 426 wreaths laid; 2018 had 585 wreaths laid and in 2019, there were 1,035 wreaths laid at the graves of veterans locally.