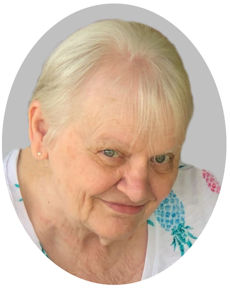 Janet K. Metz, age 78 of Batesville, died Tuesday, May 2, 2023 at Margaret Mary Health. Born January 3, 1945 in Batesville, she is the daughter of Norma (Nee: Struewing) and Norman Raver. She married Frederick Metz June 19, 1965 at Holy Family Church and he preceded her in death May 15, 2009. She was a teacher's aide at Oldenburg Elementary School for 15 years and a cashier at Harmeyer's Market for 15 years before retiring.
Janet was a homebody who liked working on jigsaw and crossword puzzles. She also like to cook and being a fan of the Food Network, she was always willing to try a new recipe. Deviled eggs were a favorite dish to make and she'd always bring home an empty plate. Janet enjoyed going to the boat to try her luck, but it was a special treat, once a year on her birthday. An avid reader, sitting on her porch with a good book was a favorite pastime. She and Fred loved dogs and had several through the years, although she just recently lost her beloved Peekapoo Abby.
Janet is survived by her daughter Ann (Keith) Hazelwood of Hamburg; sisters Judy Doll of Batesville, Lois Miller of Batesville, Linda Gregory of Greensburg, Joan Raver of Indianapolis; brother Ken Raver of Batesville; grandchildren Ashley (Dustin) Huth, Sean Hazelwood and great grandchildren Simon and Henry Hazelwood. In addition to her husband and parents, she is also preceded in death by brothers Don and Keith Raver.
Funeral services will be held at 3:30 p.m. at the Weigel Funeral Home on Friday, May 5th. Visitation follows services until 6 p.m.  Janet's wishes were to be cremated following services. The family requests memorials to Margaret Mary Health Hospice or Phi Beta Psi Sorority Cancer Research. For online condolences go to www.weigelfh.com.