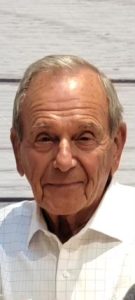 James J. Kuisel passed from this life on July 28,2022 in Sarasota, FL; he was 83 years old. He was the loving and devoted husband of Pauline (nee Rabels), his high school sweetheart and wife of 64 years. He was also the beloved father and father-in-law of seven children, Jill Coffey (Tim) of Cincinnati, the late James Kuisel Jr. (Michelle) of Columbus, OH, Greg Kuisel (Patti) of Fernandina Beach, FL, Wende Lambert (Gene) of Batesville, Amy Weihe (Russell) of Ocean Springs, MS, the late Matthew Kuisel and Jason Kuisel (Emiko) of Batesville. He had 18 grandchildren and 10 great grandchildren whom he loved dearly and who dearly loved him in return.
James, known by all as Jim, was born and raised in Detroit, Mi to Harold and Florence Kuisel; he was the youngest of their four sons, Jerry (deceased) and Don (deceased) and Richard of Washington, D.C. He attended Michigan State University and graduated from Detroit Institute of Technology. While working and raising a family, he went on to receive two Masters degrees from Case Western Reserve in Cleveland, OH.
Jim was a long-time resident, along with his wife, of Batesville, IN, moving there from Chardon, OH to accept a position as Director of Management Information Services at Batesville Casket, which he held for 25 years. Over the course of 45 years in the Batesville community, Jim never met a person he didn't genuinely take interest in or consider a friend. He was an active member of his Parish community of St. Louis Church, where he was a Lector, Eucharistic Minister, CCD Teacher for several years, member of the Saturday morning prayer group, plus a spirited Blackjack dealer at the yearly Parish Festival.
Jim had many interests and hobbies, including world-wide travel, daily exercise at the local YMCA, water and snow skiing in his younger years. In more recent years, he enjoyed gardening, and most especially spending time with his grandchildren, cheering them on in their various endeavors and sporting activities.  His true passion was his faith in God and love of family and friends. And that, above all, will be his greatest legacy.
Jim will be greatly missed by his wife and family, but our faith brings us much peace and assurance knowing that he now resides with his heavenly Father and that one day, we will see him again.
Visitation will be Sunday, August 7, 2022 from 3-6pm with Rosary beginning at 5:30PM at Meyers Funeral Home, Batesville. Mass of Christian Burial will be 10:00AM on Monday, August 8, 2022 at St. Louis Church, Batesville.
If you would like to make a donation in honor of Jim, they may be given to the SE Indiana YMCA or the Batesville Pregnancy Line, by bringing to the services or mailing to: Meyers Funeral Home, P.O. Box 202, Batesville, IN 47006.
Please feel free to leave a memory or a message of comfort for Jim's family in the online guestbook at www.meyersfuneralhomes.com.