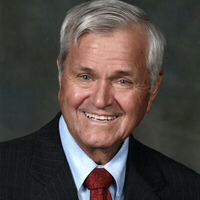 James Dale Cook, age 80, of Milan, Indiana, passed away on November 18th at 1:30 a.m. at Christ Hospital in Cincinnati surrounded by many of his loved ones. Jim was born in Milan, Indiana, on March 19th, 1943. A son of the late Goldie (White) Cook and Floyd W. Cook. He was a graduate of North Dearborn High School, class of 1961. He received his bachelor's degree from Ball State University. Jim started his education here when it was called Ball State Teacher's College. He was in the first graduating class once it became a university. He received his master's degree from Ball State University in counseling. He took additional hours at Xavier, Indiana Wesleyan University, and Indiana University.
Jim was an avid sports enthusiast. He played baseball and basketball in high school. Jim would always look forward to his next grandchild's sporting event and spent much of his free time cheering on IU basketball and the Cincinnati Bengals. He went on to have a 40-year career as a teacher, assistant principal, counselor, coach, and driver's education instructor at Connersville, Waldron, and within the Sunman Dearborn School Corporation. Jim loved coaching. He started coaching at age 19 and continued until he was in his 70s. He was fortunate to coach an Indiana Mr. Basketball and a future NBA player who also played for IU. He also was the first golf coach at East Central High Schol to have a team advance to the regional competition. He coached football, baseball, track, golf, basketball, and girls' fastpitch softball. He also refereed basketball and volleyball for many years.
After he retired, he played golf 4 to 5 times a week and made many new friends on the golf course. Jim was a member of the Dearborn County Retired Teachers Association and Indiana State Teachers Association. He also was a member of United Methodist Church for most of his life. Jim loved spending time with family. Jim was the husband of Sally (Brown) Cook. Jim and Sally were married on June 6 th, 1964, at First Methodist Church in Connersville, Indiana. They were married for 59 years until his passing. Jim and Sally also loved traveling, while they were able. Jim was a loving husband and father, and his grandchildren were his pride and joy.
In addition to his beloved wife Sally, Jim is survived by his three children, Cathy (Cook) Lehman and husband Roger, of Sunman, Indiana, Kent Cook and wife Gai, of New South Wales, Australia, and Kevin Cook and wife Shelley of Lawrenceburg, Indiana; by his ten cherished grandchildren; Emily (Lehman) Holler and husband Chad Holler, Sarah Lehman, Olivia Lehman, Mya Cook, Mason Cook, Alexandra Cook, Katirenya Cook, Isabella Cook, Hayden Cook and Hudson Cook. Jim is also survived by a brother, Tom Cook and wife Sally Cook of Milan, Indiana, and a sister-in-law, Barbara Cook of Columbus, Ohio, and many nieces and nephews. Jim was preceded in death by his parents and by his brother, Bill Cook.
In death, just as in life, Jim has given back and decided to help others by giving the ultimate gift and being an organ donor. His donation is and will help so many people. Memorial Donations may be made in his name to the Epilepsy Foundation, American Heart Association, or Juvenile Rheumatoid Arthritis Foundation. A celebration of life for James Dale Cook will be held on Sunday, December 17th at Romweber Place, Batesville, Indiana at 7 S. Eastern Ave, Batesville, IN 47006 from 1 – 4 p.m.