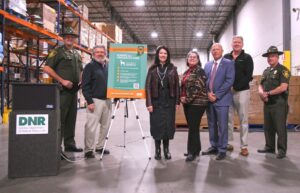 (Indianapolis, IN) – Indiana First Lady Janet Holcomb on Monday joined the Department of Natural Resources (DNR) at Gleaners Food Bank of Indiana to let hunters know how they can help hungry Hoosiers (pictured).
This reminder comes as deer firearms hunting season begins and the need for protein donations remains strong across the state.
Updated this year with a new name and website, Indiana Hunt for Hunger turns donated deer into healthy venison that is provided to Hoosiers through food banks like Gleaners across the state.
"Indiana Hunt for Hunger combines two time-honored Hoosier traditions—deer hunting and helping our neighbors in need," said First Lady Holcomb. "As you're out hunting across Indiana this season, if you're lucky enough to harvest a deer, or possibly even two, please consider donating it to be turned into healthy venison for Hoosiers experiencing hunger."
The program, previously called the Sportsmen's Benevolence Fund, was started by the Indiana DNR and its partners in 2008. Since then, it has grown across the state to collect thousands of deer donations, providing hundreds of thousands of meals for Hoosiers.
"Too many Hoosiers are struggling to put food on the table. Our member food banks around the state are serving record numbers of families," said Emily Weikert Bryant, executive director of Feeding Indiana's Hungry. "Items like protein can be unaffordable on a tight household budget, creating a high demand for it at our food banks. By hunters taking an extra deer and donating it through Hunt for Hunger, Hoosier food banks and pantries will have more healthy protein to share with our friends and neighbors this deer season."
To better explain the program's vital mission and spur even greater participation, it's now called Indiana Hunt for Hunger, with continuing partnerships with Hoosiers Feeding the Hungry, the Dubois County Sportsmen's Club, and Farmers & Hunters Feeding the Hungry.
"Donations can make a huge difference because the meat from one deer can provide 200 meals for a family," said Dan Bortner, DNR director. "One Hoosier hunter can make an incredible difference."
Here's how it works: Hunters take their field-dressed harvested deer to one of more than 50 participating meat processing sites across the state. The processor takes it from there, processing the meat into healthy venison burgers and donating it to area food banks. Indiana Hunt for Hunger pays the processing fees, so there is no extra cost to the hunter.
"Hoosiers Feeding the Hungry sincerely appreciates the past financial support provided by the Indiana DNR's Sportsmen's Benevolence Fund," said Suzie Jordan, executive director of Hoosiers Feeding the Hungry. "This support has allowed our agency to pay for the deer harvested as part of our program to be processed and provided to food banks and pantries throughout the state. Over 500,000 pounds of venison have been shared through this partnership. As the name changes to Hunt for Hunger, we can increase the awareness of the partnership between our nonprofit agency and the Indiana DNR to strengthen and expand the knowledge of our mission to Hoosier hunters, our processors, and food banks throughout the state."
A list of participating vendors is posted at on.IN.gov/huntforhunger. Processors interested in joining the list can contact Capt. Jet Quillen at [email protected] or (317) 232-0658 for more information.
(Indiana Department of Natural Resources press release)