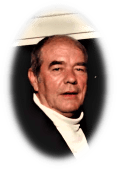 Heinz Wittkorn, 80, of Moores Hill passed away at Margaret Mary Hospital in Batesville on Tuesday, January 26, 2021. He was born in on Sunday, February 11, 1940 in Bochum, Germany to Josef Heinrich Wittkorn and Gertrude Beate Makowski. On Tuesday, May 5, 1959, Heinz married Linda Gail Wittkorn and she preceded him in death on Wednesday, August 9, 2017. He spent 20+ years as a truck driver and many more years working for General Electric and Nesco where he eventually retired. In his spare time, Heinz enjoyed working in the yard, finding new German restaurants to try, and drinking coffee at the "table of knowledge" at The Reservation in the morning.
Heinz is survived by his son Gregory Wittkorn (Valerie) of Delaware, Ohio; sister Ursela Krowinn of Germany; four grandchildren Amber Wittkorn, Ethan Wittkorn, Aaron Wittkorn, and Erika Basil (Kyle). He was preceded in death by his wife, Linda, along with his parents, his brother Wolfgang Wittkorn, sister Rosemarie Josefine, and brother-in-law Bernd Krowinn.
There will be no services at this time per the request of the Wittkorn family. Memorials may be made in honor of Heinz to P.A.W.S. of Dearborn County. Sibbett-Moore Funeral Home, P.O. Box 156 Moores Hill, Indiana 47031, (812) 744-3280, has been entrusted with arrangements. Please reach out through our website at www.sibbettmoore.com to leave an online condolence message or memory of Heinz for the family.